Curriculum and Course Development
Community Change, Inc. supports schools, school districts, government agencies, not-for-profits, and institutions of higher education the development of academic curricula and college courses based on the CareerVisions, Community Change, Legacy and/or Peace Models for youth engagement. Below are examples of our coursework and guides we created based on these models.
The Community Change Model: An educator's guide to engage youth in analyzing and addressing social issues in their community
This guide throughly explains the Community Change Model and strategies to integrate this approach into any classroom. Sample lesson plans and templates are included. Please contact us at kf@communitychangeinc.com to order copies.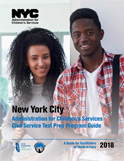 The New York City Administration for Children's Services (ACS) Civil Service Test Prep Program Guide
Developed for ACS, this guide provides engaging, hands-on activities to help educators give youth practice in the skill areas used in the New York City civil service employment exams.
Additionally, the Community Change, CareerVisions, Legacy and Peace Models have been offered as stand-alone and integrated courses through Lehman College's School of Education – Middle and High School Education Department since 2006. The courses examine the design and application of the models in the classroom. This is done by engaging college students in examining critical questions through dynamic and purposeful activities that integrate their findings from research. The courses are interdisciplinary (Public Health, Black Studies, Latin Studies, American Studies, Middle/High School Education, and Early Childhood Education) and require students to do a minimum of 3 hours of fieldwork to earn up to 4 credits towards their degree.

CareerVisions Course Syllabus
This practicum course examines students' career ambitions using the CareerVisions Model as a means of engaging people in an in-depth, dynamic exploration of their professional field of interest.
CareerVisions Course Syllabus (pdf)

Community Change Course Syllabus
This practicum course examines the design and implementation of the Community Change Model as a means of engaging people in analyzing and addressing their community concerns.
Community Change Course Syllabus (pdf)